Media Release 16 February 2010
Billy Kidney Launches National Health Campaign at Victorian Primary School
Click here to listen to Billy Kidney's song.
With one in seven Australians having some form of kidney disease and the number of people with total kidney failure expected to double in the next ten years, Kidney Health Australia has appointed Billy Kidney and his friend, well known ventriloquist Lindi Jane, as ambassadors to promote healthy living.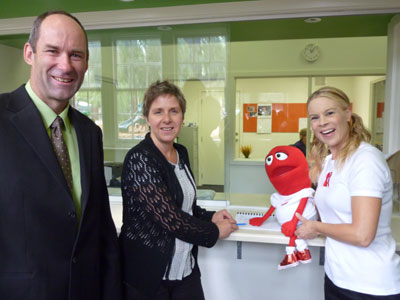 Billy Kidney signing in at the Hawthorn West Primary School
with (left) Rob Webb, Principal, Helen Thomas, Assistant Principal and Lindi Jane.
Billy Kidney was recently officially enrolled at the Hawthorn West Primary School after meeting school officials and classmates.
Lindi Jane started her career from Hospital after years of corrective heart treatment and surgery. When in hospital a nurse gave Lindi a sock puppet and said it was great to play with and help with her healing. It did! Lindi Jane learnt the art of ventriloquism and started performing around the hospital and when well enough, she performed at schools, fetes and community shows.
In their new role as Kidney Health Australia ambassador's, Billy Kidney and Lindi Jane are promoting Billy Kidney's Top Ten Tips for Healthy Kidneys.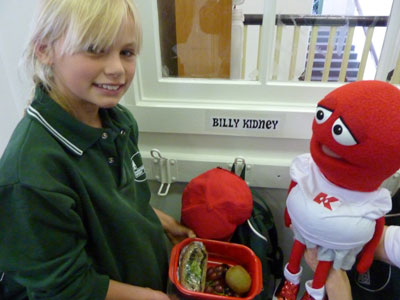 Alice with Billy Kidney with his school bag, cap and lunch box full of healthy food.
With exercise in the top ten tips, Billy with Lindi Jane is already working towards bringing out his first single to encourage children to do the 'Billy Kidney', a special wrap dance that promotes healthy exercise.
Frank Daly, Chief Operating Officer of Kidney Health Australia said getting health messages through to children is vital. Healthy eating, exercise and an attitude to respect their own health needs is the foundation of their quality of health in later life.
"With Chronic Kidney Disease responsible on average for a death every thirty minutes in Australia or fifty people a day, the problem is growing. It is vital to get the messages across to children and also their parents in the 25 to 45 age group who are at a stage where taking actions such as stopping smoking and excessive drinking, improving diet and taking up some exercise could save them from kidney failure."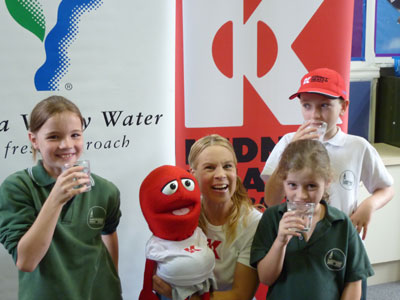 Hawthorn West Primary School students (left) Lily, Isabella and George with
Billy Kidney and Lindi Jane, promoting the importance of drinking water - nature's choice.
Kidney Health Australia has combined with Yarra Valley Water to promote the importance of drinking water and also to recognise the major role Yarra Valley Water plays in assisting home dialysis patients.
Tony Kelly, Managing Director of Yarra Valley Water said because healthy drinking habits start at home, Yarra Valley Water has created a fun, interactive website to educate people about the importance of getting enough water.
"It includes a hydration calculator, to advise people on how much water they need to drink each day. Users simply enter their weight and the amount of time they spend exercising each day, and the calculator tells them the number of glasses of water they should aim to drink each day.
"The Tap into good health site is a fun tool parents can use to help instil healthy drinking habits in their children. It's simple to use, and makes a great activity to assist children in their learning and we look forward to working with Kidney Health Australia," Mr Kelly said.
Click here for Billy Kidney's website.
Media Enquiries:
To arrange an interview with Billy Kidney and Lindi Jane contact
Ron Smith National Communications Manager Kidney Health Australia Mobile: 0417 329 201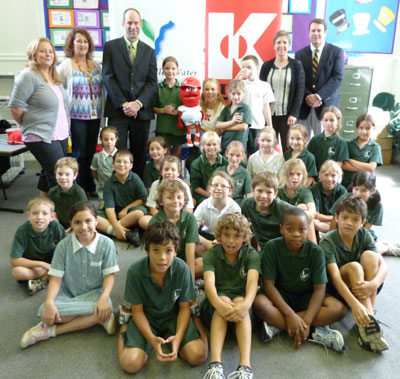 Billy Kidney's Grade 3 class mates at Hawthorn West Primary School
Fast Facts on CKD in Australia
Chronic Kidney Disease (CKD) is a significant and growing public health problem, responsible for substantial burden of illness and premature mortality. In Australia, it is a fact that:
1 in 3 adults are at increased risk of developing CKD

1 in 7 adults have at least one clinical sign of existing CKD

A person can lose up to 90% of their kidney function before experiencing any symptoms

Approximately 2 million Australians may be affected by early-stage kidney disease and don't know it

On average 50 Australians die of kidney failure each day

11.3% of all deaths in Australia are due to, or associated with, kidney failure

Every day, 6 Australians commence expensive dialysis or transplantation to stay alive

Most people with CKD will die from cardiovascular causes before requiring dialysis or transplantation

Aboriginal and Torres Strait Islanders experience excessive death and disability due to CKD

The dialysis-dependent population has risen by an average of 8% per year over the past decade, and is being fuelled by the ageing population, and Type 2 diabetes epidemic

It costs approximately $83,000 per annum to keep a person alive on dialysis